About the Course
With this comprehensive video course, you will learn everything you need to know to launch and run successful AdWords campaigns. After completing the 40 lectures, you will also be able to create ads that consistently produce more sales and leads.

How does the course work, though? Well, it's really pretty simple. In this course, you will learn the following with video lessons and screencasts in a live AdWords account:

How AdWords and Ad Rank Work
Successful Targeting and Bidding
Campaign Tracking and Budgeting
Keywords Targeting Types
Dynamic Keyword Insertion
Ad Writing and A/B Testing
AdWords Strategy & Implementation
Campaign Optimization
Additionally, you will receive the Advanced AdWords (Display and Remarketing) bonus sections. All of this will be available to you for life, and you will be able to come back to review the course content at any time.
The course is delivered through video lessons and screencasts. Here's screenshot of what the course platform looks like: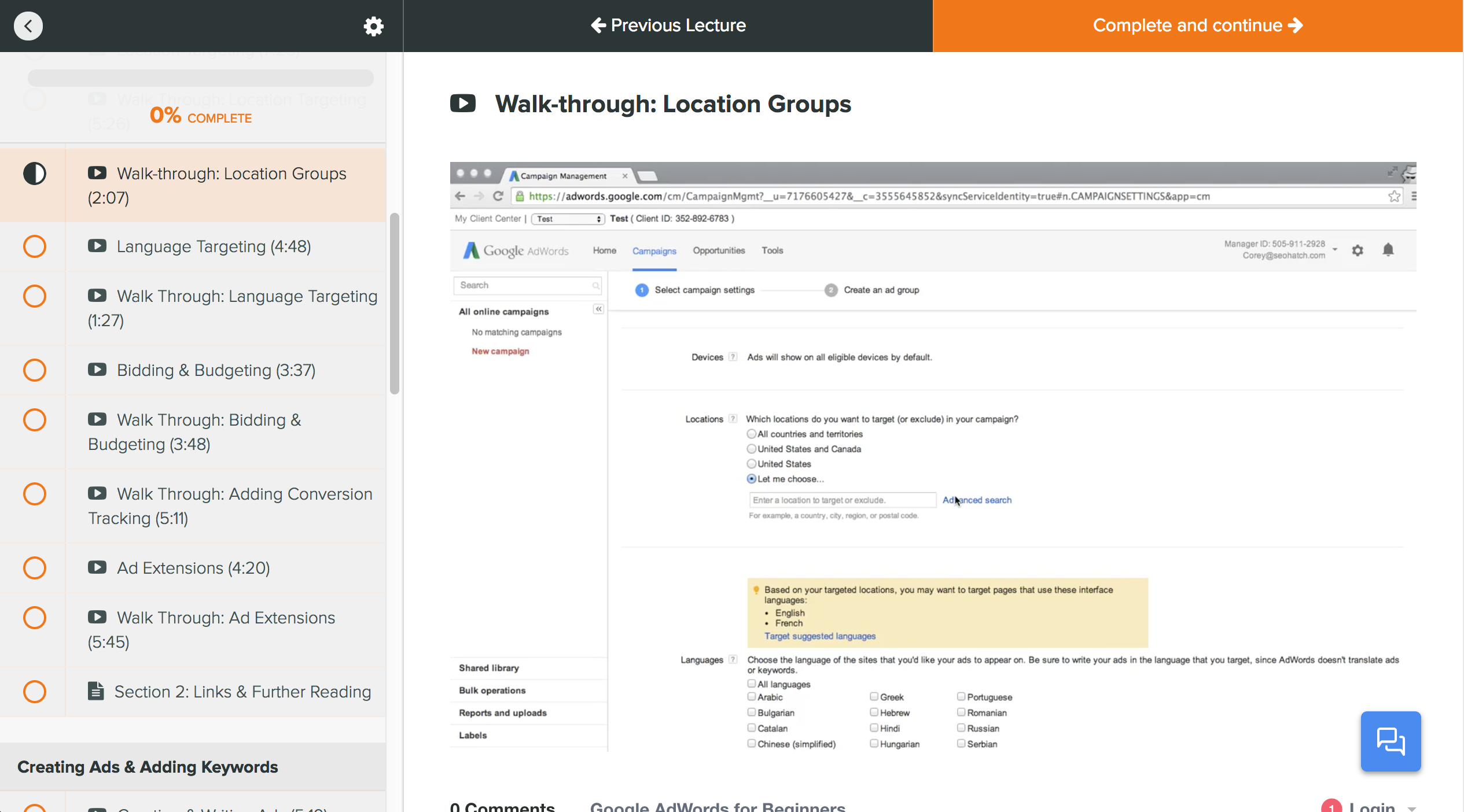 ---

Who is this course for?
Google AdWords for Beginners is for marketers who want to learn how to target customers that are searching for products or services that you sell . This course will add another tool to your marketing tool belt to produce more sales for you and your business .
Also, AdWords is an in-demand skill. Companies are always looking for employees that can effectively manage PPC campaigns. Check out this search on Indeed.com to see for yourself.

---

What people are saying
Does any of this really benefit you though? Will it really help your business? Over 10,000 students have taken the course. Here's what a few of them are saying about it:
"Very clear. Lots of material. Great instructor. I have my own online business and have always wanted to try AdWords but was never sure how to "jump" into it. This course was exactly what I needed. I will watch it several times and would suggest it for anyone looking to start AdWords."
"Whilst Google AdWords itself is multi-layered & complex, Corey made this course easy to understand even for a novice such as myself who has nothing to do with this type of work previously. Thanks so much. Great structure and keeping it simple to follow for the beginner! :)"
"This class is fantastic for people just getting started with Adwords advertising, tons of great optimization tips that I hope to use soon after starting my campaigns. I highly recommend this course to anyone who wants to start or improve their adwords marketing. Thanks so much Corey!"
"Just WOW. Only one Word - AMAZING"
"Very good course! I appreciated a lot this course, I think this course isn't only for beginners, I am not a newbie and I found a lot of advanced information, too. Very good job Corey!!!"
---
Need multiple licenses?

If your company would like to buy access for multiple people on your team, email me directly for volume pricing.